Finding preceptors, especially when the deadline date is around the corner is an extremely difficult task. It can be overwhelming and stressful!
Let's be honest the idea of having to cold call offices isn't enticing at all, and dropping by random clinics around your city or town is the definition of inefficiency.
We've found, especially in the last 2 years, engaging potential preceptors on social media provides the best ROI on your time. Additionally, Nurse Practitioners and Physicians want to help students, but when you're reaching out to them at work, it's easier for them to say NO as a natural response.
It's not their fault; however.
The state of healthcare is such that right now most practicing NPs and MDs are required to see between 2.5-3 patients per hour, and that's incredibly taxing on the preceptors. The biggest reason to continue outreach on social media is that you're reaching out to preceptors on a platform where they are spending time their free time.
In marketing, there's a framework of "following the attention of your end users." Applying this to your search for clinical rotations is critical.
These days, most people spend a significant portion of their free time on social media. Today we're going to focus on LinkedIn and Twitter. For email scripts and word-for-word messages for Facebook, check out the Ultimate Guide On Finding Your Own Clinical Rotations.
LinkedIn
LinkedIn is an incredibly powerful platform because most preceptors have accounts, and many office managers are on it as well. We recommend using LinkedIn in conjunction with calling physician offices. This way when you find out the office manager's name during a call, you can instantly connect with them on LinkedIn.
Emails have to be opened and read, but many LinkedIn messages are pushed directly to an individual's phone. Remember, in order to get a confirmation for a clinical rotation, you need to have the attention of the office manager/preceptor.
Here's a great pro-tip for using LinkedIn: Once you connect with enough office managers and potential preceptors, LinkedIn will start auto-recommending you others people in the same industry to connect with. Also, make sure your profile is up-to-date as well!
Once you engage with the preceptor or office manager, here's a great message script that our students use all the time!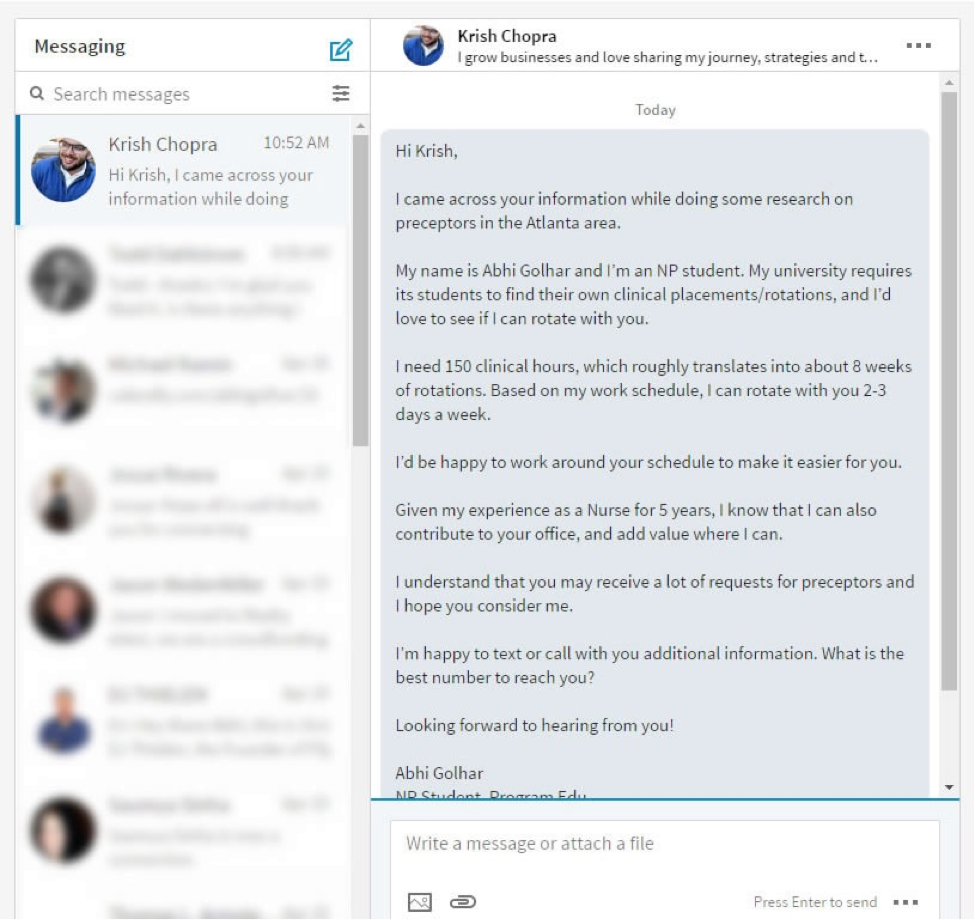 Twitter
Twitter and Linkedin and very different platforms and you should treat them very differently. A great analogy is considering Twitter be a large, busy coffee shop where you can strike up conversations with anyone. Since on Twitter you can Direct Message most people, it's best to keep the "Ask" very short and sweet.
Also, the platform is dedicated to keeping messages short, so keep them short as well!
Here's an example: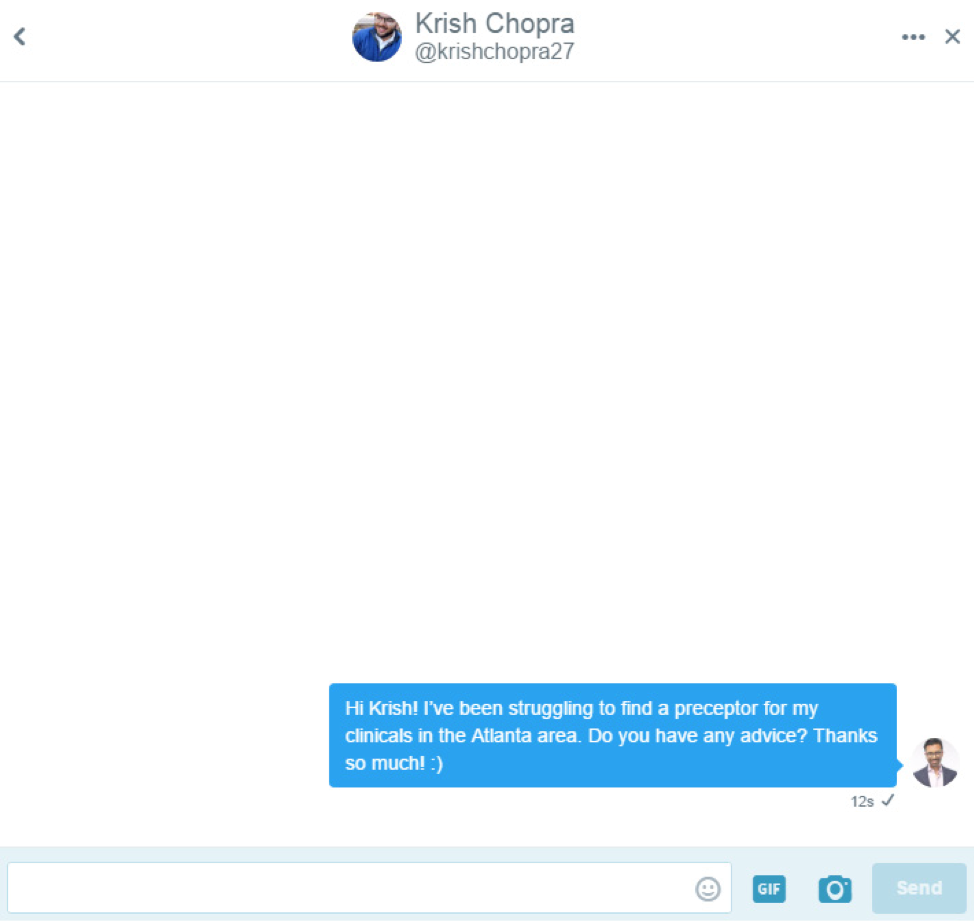 The benefit of short messages is that they're quick and easy to digest.
More individuals have Twitter on their phones and would likely receive these messages directly to their phone.
I know this may sound scary, but give it a shot! It's significantly easier to strike up a conversation on Twitter than other social mediums; however, most people don't take advantage. I encourage you to try it for a few days before deciding that it's not for you.
Additionally, a best practice is to tweet to preceptors directly. Don't ask for a preceptorship, but ask for advice. The reason this tactic works is because tweets are public, and people are much more likely to be accommodating if others are watching, especially if you are being genuine.
Here's a pro-tip, make sure your profile is clean, interesting, and appropriate prior to messaging Physicians and Nurse Practitioners. No one wants to see any extreme opinions.
We know finding your own clinical rotation can be incredibly daunting! Try the methods outlined above and the process will become simpler.
Many of our previous students have tried the Twitter and LinkedIn messages above and networked effectively.
Be open to new methods, and practice patience! Good luck out there!
For a full framework and free guide for helping you with this process, check out www.nursepractitionerclinicalrotations.com
Cheers,
Krish Chopra
—
Krish Chopra is the Co-Founder of NPCR, Nurse Practitioner Clinical Rotations. He believes that universities should be required to find their student' clinical rotations, and is doing everything in his power to empower universities to take additional accountability. In the meantime, he and his awesome team help NP students all across the country to find and schedule their clinical rotations!